MailerLite: What is it and how can I use it?
Mar 23, 2022
---
Introduction
Many small businesses start with a number of referrals for sources, but at some point, the referrals taper off and they need to find another way to get leads. Email marketing is an absolute must for these types of businesses, as it allows users to send mass informational, compelling emails to cold leads in an attempt to get the word out about their business's products or services. There are a number of different email marketing services out there, but an automation-friendly favorite of ours here at Sphynx is a web app called MailerLite; an effective, easy-to-use email marketing tool that's perfect for small-to-medium sized businesses.
What is MailerLite?
Founded in 2010, MailerLite has established itself as a robust, but also user-friendly marketing tool with a variety of features and pricing plans. And to answer your question - yes, they have a free plan! While it does have some limitations, MailerLite's free plan still supports up to 1,000 subscribers and 12,000 emails per month, a pretty hefty amount for small businesses! If you need more than that, their monthly rates are very affordable, all of which allow you to send an unlimited number of emails. MailerLite also offers a free 30-day trial to their premium features so you can get your hands dirty and see which paid-plan features suit your needs. Best of all, MailerLite has renowned customer support, available 24/7 with an average response time of just 5 minutes!
Now that you have a background on what MailerLite is, let's take a deep dive into what it offers.
Features
Just like us, they love automation!
Remember how I mentioned that MailerLite is automation-friendly? To get more specific, they're "132 different types of integrations" automation-friendly. MailerLite supports some of the most popular web apps today, including Shopify, WordPress, Zapier, Stripe, and many, many more. With so many different options at your disposal to make your business as efficient as possible, you can see why we love it so much!
In addition to their integrations, MailerLite also has built-in automation capabilities. For instance, you can automate emails to go out based on specific events, such as becoming a new subscriber, celebrating birthdays and anniversaries, reminding shoppers that they've abandoned items in their cart, and much more. You can also build workflows for your emails that your automations will follow, such as auto-resending emails and following up after a certain number of days. You can also track the automation history for your emails to see where there were errors, pauses, and other notable events related to your automated emails.
Email creation and design has never been easier!
Not everyone is blessed with the knowledge of how to build their visions through code, but MailerLite makes it easy. Thanks to their drag-and-drop editor, you can create fresh and satisfying emails just with just a click of the mouse. Their library contains hundreds of static and interactive blocks ready for use in your emails and newsletters. Want to put a survey directly in your email for clients or leads to give feedback through? They've got it! What about a countdown timer to create urgency for when an offer expires? No problem! Maybe even some testimonials to vouch for all the great, hard work you've put in for other clients? You guessed it, they have that too and so much more!
And don't worry code experts, you're not limited to using the drag-and-drop editor. MailerLite has a custom code editor that allows you to build your own emails from scratch, and even import code from other areas!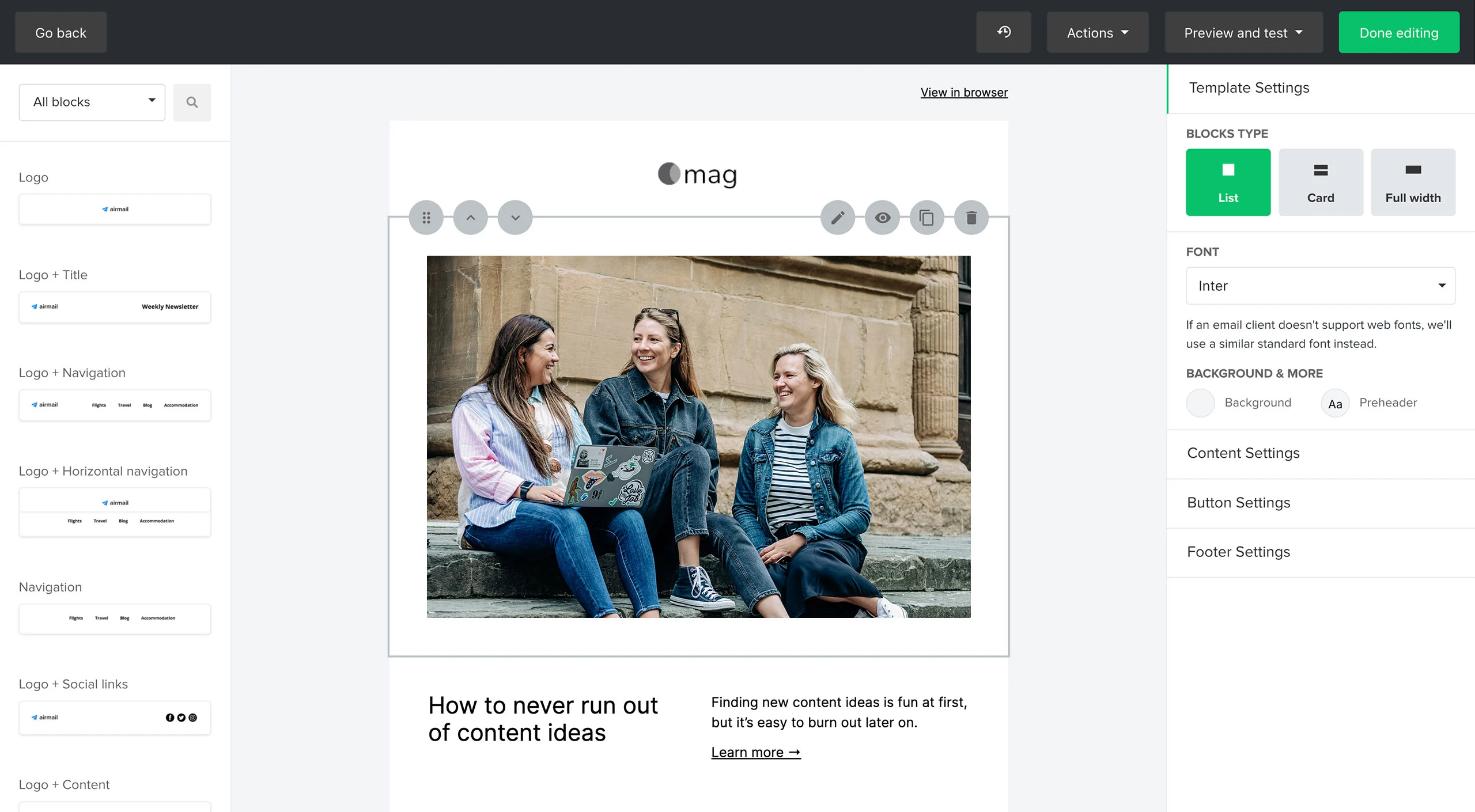 In addition to all of the blocks that MailerLite offers, they also have a built-in image editor that allows you to polish up photos to your liking. Let's face it: not all of us have the desire to learn (or pay, for that matter) how to use Adobe Photoshop. MailerLite offers plenty of user-friendly features in their editor to add filters, text, shapes, and fine-tune images to get the perfect result.
Conduct experiments through emails with A/B testing!
With MailerLite's A/B testing feature, you can make the most out of your emails by monitoring which format receives the best open and click rates. A/B testing eliminates guesswork, allowing you to analyze what your audience likes best. MailerLite offers three types of split tests: subject, sender, and content. You can use these in a variety of ways, such as determining whether your audience responds better to different call-to-actions, or a more personalized sender name. Check out this example:
You can either pick a winner manually, or have MailerLite automatically analyze the results and pick a winner based on them. MailerLite will also send the winning email to the subscribers that missed out to ensure that you're making the most of your opportunities.
Not sure where to start? Don't fret - check out MailerLite's templates!
Another huge plus about MailerLite is their myriad of templates. You can find templates for newsletters, surveys, websites, pop-ups, e-commerce product layouts, landing pages, and much more. This way, you're not always starting with a blank canvas. Sometimes all it takes is an example to get the gears turning in the right direction. And not only does MailerLite offer a number of different types of templates, but there is also a wide variety of selections between each type. You shouldn't be limited to just a few options that you can count on one hand, and MailerLite takes that to heart!
Next Post
MailerLite has hundreds upon hundreds of extremely useful features, and the aforementioned ones are just a select few of those. If I wanted to tell you about all of MailerLite has to offer, I'd be sitting here writing for the better part of the next two weeks. If anything I've mentioned sounds interesting to you, take advantage of their free plan and/or their free premium trial and see how you like it. (And we'll be happy to help set up any automations for you if you decide to sign up!)
If you found this post helpful, please like, comment and share. Chances are, there are many people in your professional network who would benefit from this information, so don't keep it a secret.
If you have any questions, feel free to ask. We're here to help! Shoot an email to [email protected] or click here to see our form templates for sale.
Each of our forms includes a comprehensive video series on how to edit and use the form. While most of our forms are primarily used by Financial Advisors / Planners, Consultants and Attorneys there are some that are non-industry specific and the others can be customized further using our JotForm training courses. Purchasing the form will enable you to book a discounted Coaching Session with us to help you edit/modify the form for your specific needs if you need additional assistance.
This blog is written by the Sphynx Automation team to help DIYers use web-based apps.
Not a DIYer? Not a problem, click the button below to chat with us.
Let's see how we can help!